You clicked here 'cause you thought this page would be super interesting. And let me tell you, it definitely is! Here's a bunch of fantastic people I got to 'meet' in the blogosphere. You should definitely check them out!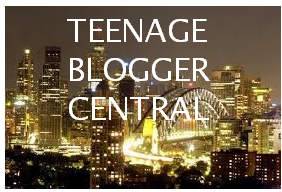 Teenage Blogger Central: Created by TheFenceOfStars
I help moderate this community! TBC is a blogger directory aimed for bloggers aged 13-20. Bloggers can come register themselves and then have their blog announced to the rest of the community! If you're looking for fresh teenage blogs, check this place out. It's categorized by blog types and locations and is really simple and easy to navigate. Make sure you register and follow :)
Lost in Translation: Penned by Envy Fisher
This is one of my favorite blogs because
(1) Envy is hilarious and down to earth
(2) she talks about the most random interesting things ever
(3) she's a genuinely nice and caring person.
Definitely my official blog buddy and fellow member of #spacepoliceradio! So if you're looking for the kind of blog where it feel like you've made a friend, this is definitely the blog to go to!
My Hopeful Pencil: Written by Zelus
This is, quite frankly, one of the most useful blogs out there. Zelus shares so many quality posts about studying and stationery. She's also got beautiful notes (her study aesthetics are on point) and even more fantastic photography. Overall, I find her blog very inspiring and motivational, it certainly makes you want to pick up your books and study too! She also shares study related printables so check those out too!
To a Stranger: Penned by Carmen
Straight up A* quality blog, right here. Carmen puts in so much content and effort and love into the posts on this blog, it really deserves much much more. Everything on this blog is absolutely inspiring, whether it's her writing, her university (studyblr) series, her book reviews, her photography- everything is fantastic and I cannot stress this enough: Go. Check. This. Blog. Out! and follow!
This page is still under construction. If you'd like to be personally featured here, let me know. Below are some button swaps.